Table of Contents
Motion sensor
Passive infrared detector on wall or ceiling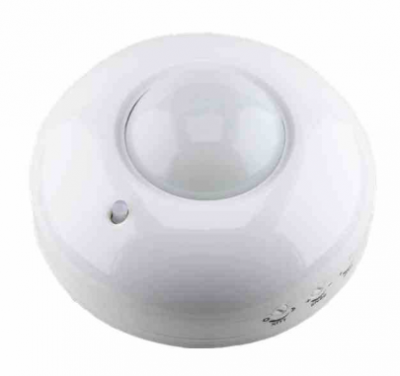 | | |
| --- | --- |
| Model number: | IR-A7-LC |
| Connects to: | digital input |
| Mounting: | On wall or ceiling |
Applications
Motion detector

Ready light

Intrusion detector

Lighting control

Hotel GRMS
Features
Aestetical look

Easy mount
Installation instruction
Do not install the detector at position which faces direct or reflected sunlight or near windows with direct car headlight.
Ensure that there are no obstructions (plants, screens, furniture etc.) in the field of view that may cause incorrect cover/operation of the detector.
Avoid locating the detector in areas that contain equipment that may change the environment temperature rapidly (i.e. above radiator or under the air-conditioner)
Install the detector at proper height on a rigid surface. Do not install the detector on vibrating surface.
PIR detector is more sensitive to the motions "across" the detection zones than "toward" or "away".
Range and detection pattern

Technical specifications
| | |
| --- | --- |
| Power supply | 24 VDC |
| Temperature | -20°C ~ 40°C |
| Range | 7 m |
Terminals
Power supply
+
Brown
-
Blue
HIQ digital input
Out
Red
Dimensions and mounting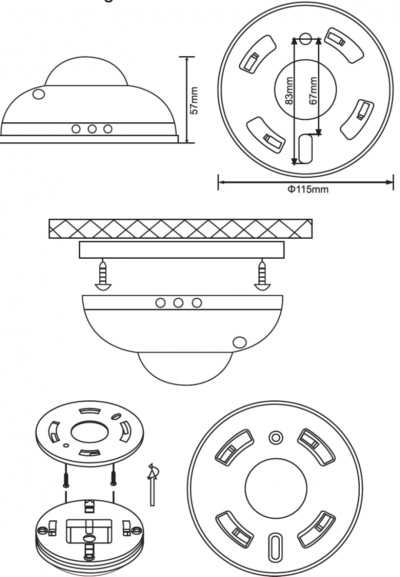 1. Separate the bottom-stand from the sensor body by turning it clockwise against the sensor body.
2. Pull the wires through the hole in the middle of the bottom-stand.
3. Fix the bottom-stand on the selected location with two screws as shown on the drawing.
4. Connect the wires.
5. Fix the sensor body on the bottom-stand and turn anti-clockwise.
en/ms_main/ir-a7-lc.txt · Last modified: 2020/05/26 08:29 by marjan_strnad
---